Can't come to us? We may be able to deliver to you. Call us for more info!
Pure deLite is the premiere "guilt-free" cupcakery that offers more than 140 savory flavors, along with cakes, pies, cake balls, biscotti, French macaroons and icing shots, each baked with only the best natural and pure ingredients.
Pure deLite's unique selection includes breakfast favorites like Caramel Latte or French Toast, classics like Chocolate Lava and Vanilla deLite, and for the 21 and up club, Strawberry Daiquiri, Appletini and White Chocolate Raspberry Martini, to name a few. Always ready when you order! Give in to your sweet tooth and order your guilty-free pleasure today!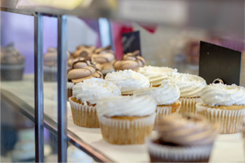 Pure deLite Fairlawn
Merchant's Square Plaza
125 Ghent Road
Fairlawn, Ohio 44333
Tel: (330) 865-4000
Click here to email us
Potential delivery area includes:
44203, 44210, 44221, 44222, 44223, 44224, 44233, 44237, 44238, 44262, 44264, 44274, 44278, 44281, 44286, 44301, 44302, 44303, 44304, 44305, 44306, 44307, 44308, 44309, 44310, 44311, 44313, 44314, 44316, 44317, 44320, 44321, 44322, 44325, 44326, 44328, 44333, 44334, 44372, 44393, 44396, 44397, 44398, 44399
Pure deLite Strongsville
Ledgewood Plaza
17100 Royalton Road
Strongsville, Ohio 44136
Tel: (440) 238-3050
Click here to email us
Potential delivery area includes:
44028, 44070, 44126, 44130, 44133, 44134, 44136, 44141, 44142, 44144, 44147, 44212, 44233, 44280
Pure deLite Carrollton
3432 E. Hebron Parkway
Carrllton, Texas 75010
Tel: (972) 735-9334
Click here to email us
Potential delivery area includes:
75007, 75010, 75024, 75025, 75034, 75056, 75057, 75080, 75081, 75093, 75234, 75240, 75248, 75252