In 2009, Rachel Hough was a mom on a mission. After just giving birth to her son, she wanted to find a way to provide her new, growing family with healthy meals and recipes without compromising taste. She set out to make the perfect guilt-free cupcake. After countless hours in the kitchen and thousands of taste tests among family, friends and co-workers, and a lot of nutrition research, she finally mastered the secret to a guilt-free and delicious cupcake.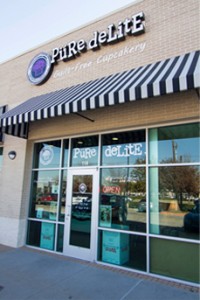 A family-run business, Rachel's father offered the name Pure deLite because of the pure, organic ingredients and the lighter calories, fat and sugar of the cupcake creations. In 2010, Rachel opened her first cupcake bakery in Fairlawn, Ohio. After receiving overwhelming positive response from area residents on popular diet programs, moms looking for a nutritious alternative for their children and triathletes in training, Rachel opened a second store in July 2012 in Strongsville, Ohio.
In August 2012, Rachel took her guilt-free cupcakes national, and moved her delicious desserts to Carrollton, Texas, a suburb of Dallas, to open her third bakery.
Rachel Hough and her team at Pure deLite believe that we all deserve to indulge in gourmet foods without compromising our health or our waistlines. Pure deLite cupcakes have half the calories, fat and sugar of a traditional cupcake and are baked using pure, natural and organic ingredients unlike its competitors.
With more than 140 flavors to choose from, picking your favorite cupcake will be your biggest challenge!